Regular price
Rs. 1,290.00
Regular price
Sale price
Rs. 1,290.00
Unit price
per
Sale
Sold out
Species : Eudynamys scolopaceus and Funambulus palmarum
Listen to the bird calls while you view the artwork :
In this painting I wanted to explore the relationship between the male and female cuckoos, which I had a chance to observe from close quarters. Firstly, this is a sexually dimorphic species, which means that the male and female have very different features (much like the common example of peacocks and peahens). The male has rich, black feathers and the female is ashy with brown streaks and is harder to spot because she's easily camouflaged. 
In the mating season, the male 'coos' his heart out, singing beautifully to attract the female. The juvenile males may try all season without success, until their song is good enough for her. But they won't stop trying to be good enough to deserve her. If she's not impressed, she moves on. If his romantic song impresses her, he has a mate! It got me thinking about consent in the natural world. She gets to decide. She gets to say yes. No means no. And he accepts that. 
So this painting is a representation of that. The male looks longingly at the female, a Rain Tree flower in his mouth, while an amused squirrel enjoys the sight. 
Read the full story of the collection here. 
View full details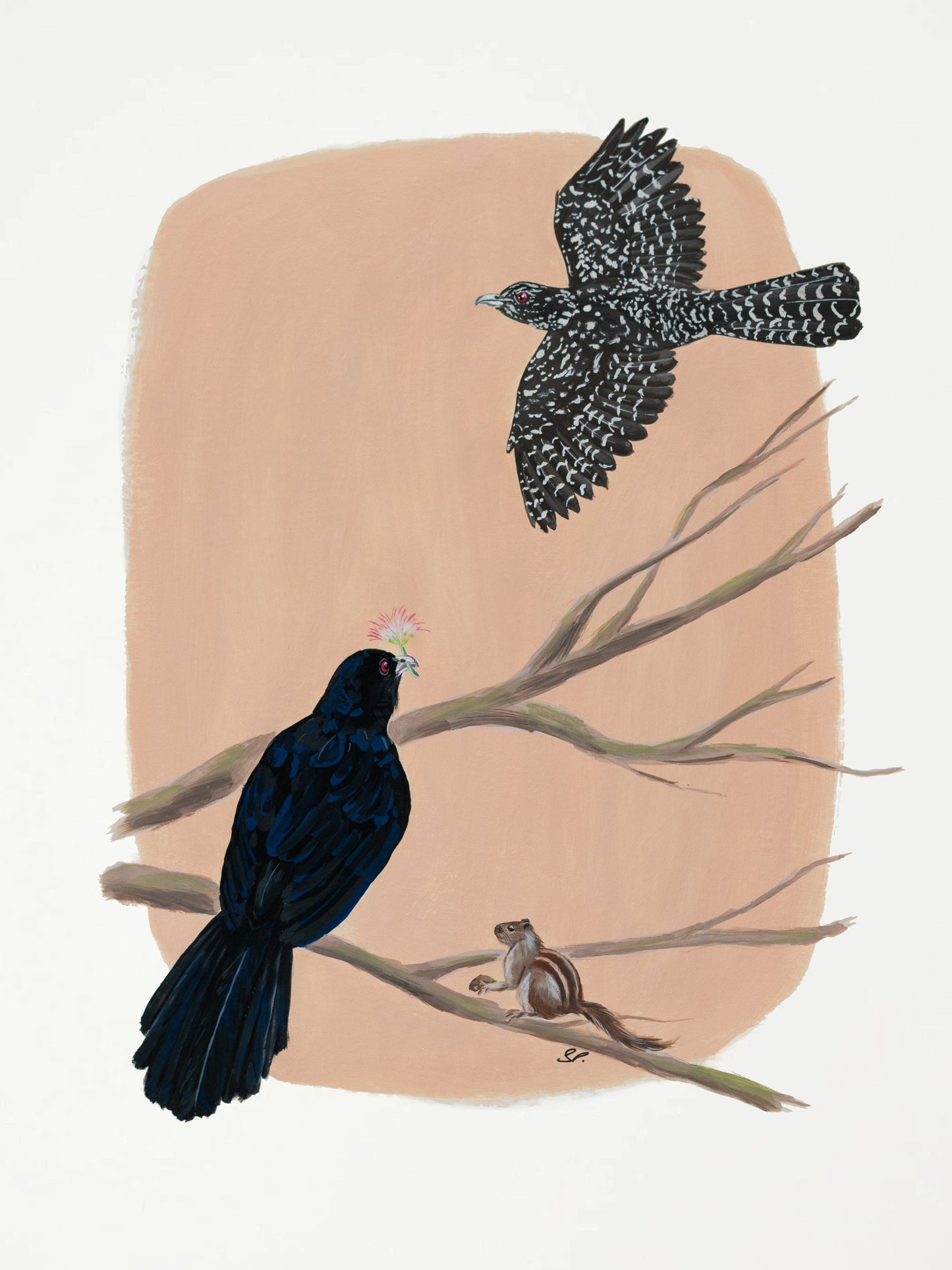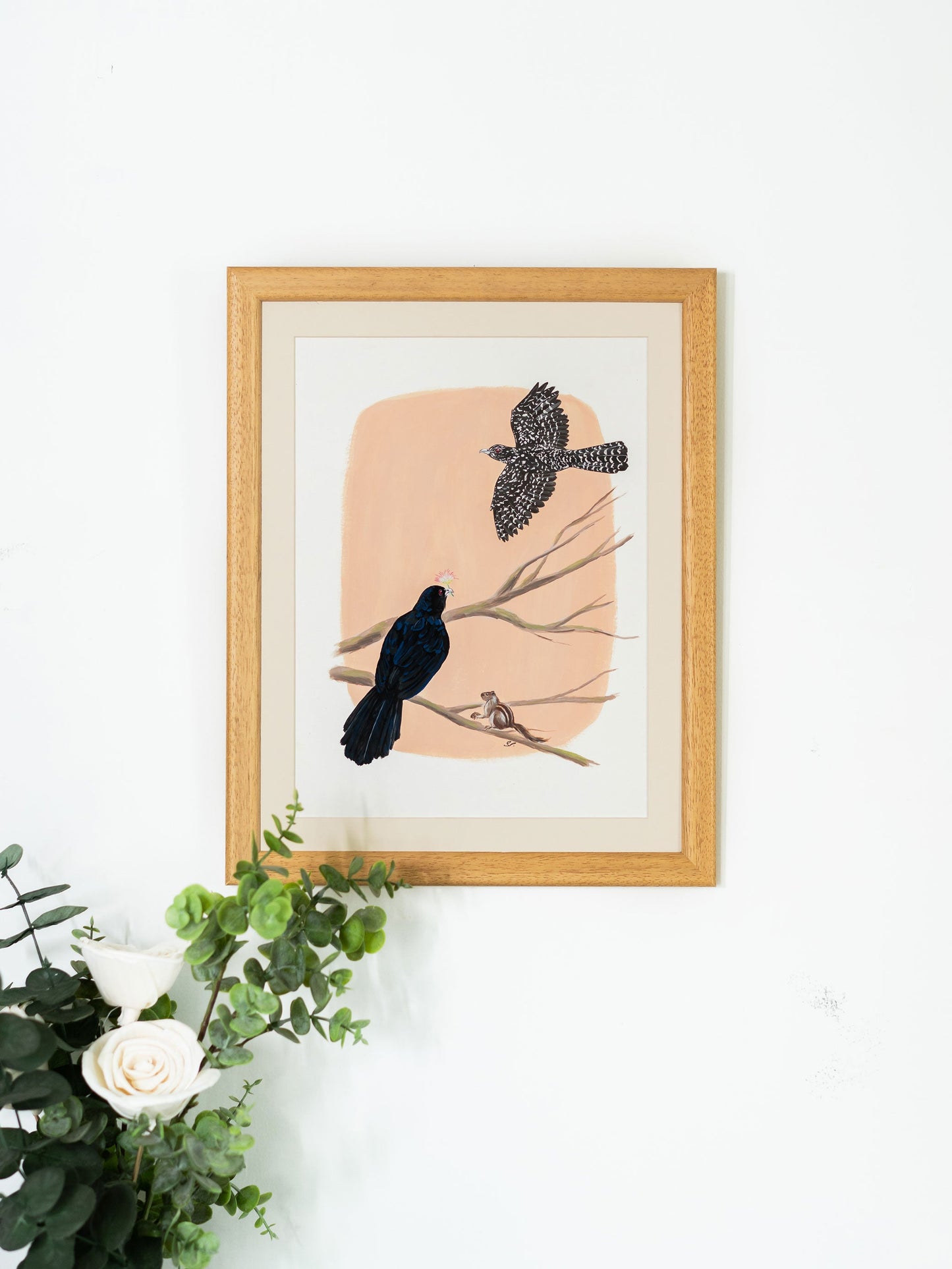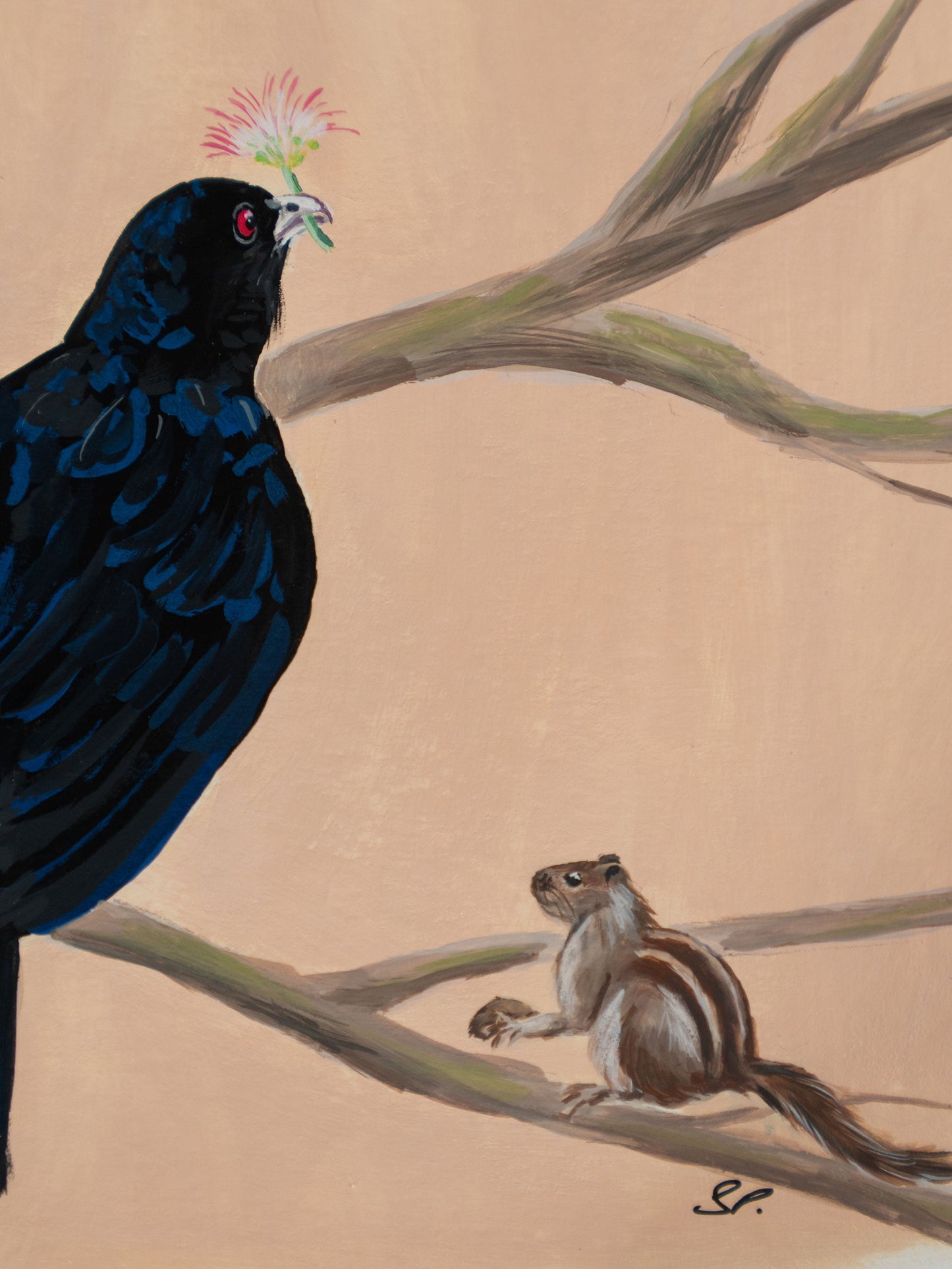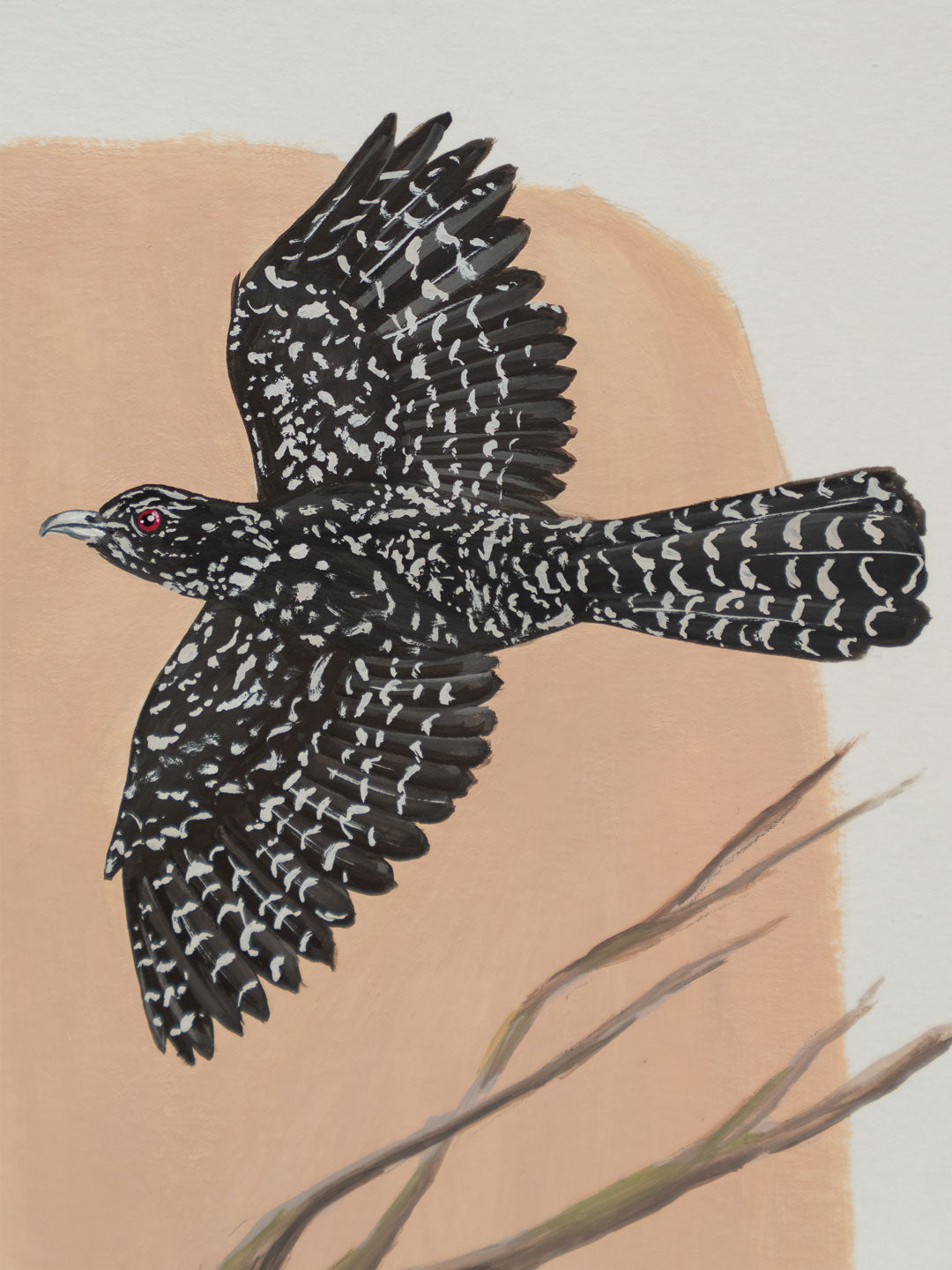 Sizing Details

Small Prints : 5X7 Inches - Makes a great gift or addition to your desk

Regular Prints : 8X10 Inches - Standard Frame Size

Medium Prints : 11X14 Inches - A beautiful size to adorn your walls and showcase the art

Large Prints : 16X20 Inches - Perfect for a highlighted spot in your home or office
Museum Grade Archival Printing
All prints are done with high quality archival pigment-based inks on 100% acid-free, museum-grade fine art papers.
Gilcée Prints (or Archival Prints) are designed to last you a really long time. These are printed on an inkjet printer which 'sprays ink'. These printers use 12 pigment-based inks instead of the usual 4 dye-based inks, so colour reproduction is more accurate.

The paper is also textured, similar to the papers that the original paintings are made on, making them look very much like an actual painting, rather than a print. 

There can be a minor difference in colours in the physical prints from what you see on screen. 
Frequently Asked Questions
Will the artwork look exactly like the images?

Please note that you're looking at digital images of the artwork. Each and every laptop or phone screen displays colours differently. Expect mild variations in colour from what you see on screen.

I assure you that the print inevitably looks 100 times better in person. 😄
What medium was used for this artwork?

All these paintings were done using Artist Grade Gouache on Italian Acid-Free Hot Pressed paper. This is a printed reproduction of the original artwork. If you'd like to view my originals, click here.
Is the frame included?

No, the price includes the artwork, without the frame. The frame shown in the image is for representation purpose only. If you'd like to discuss options of framing, please write to hello@shivanipatel.in after placing your order.
How should I preserve the print?

To ensure longevity, please try not to handle the print with bare hands, or clean and dry your hands thoroughly before handling.

Keep the print out of direct sunlight as that can cause mild discolouration of the paper over time.

The print is done on museum grade acid-free paper. However, framing it with glass would help you to protect it a lot better.

When framing, use a mount board to prevent the glass from directly touching the paper.
When will the artwork be shipped?

Your artwork will be shipped within 10 working days after your order is placed.
Do you ship internationally?

Yes, the shipping cost will be added at checkout. Please write to hello@shivanipatel.in for any queries.